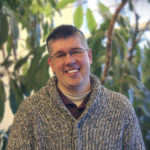 TMP Architecture, Inc. is proud to announce that Bryan Peterson, AIA, CSI, CCS, CCCA joins 20 top industry professionals in a groundbreaking new review program launched by Building Systems Design (BSD).
The Specification Content and User Experience Advisory Committee was created to enhance BSD's longstanding review system and further improve the quality of both existing and expanded SpecLink content, along with the user experience. Peterson has been appointed to the main steering committee, which is made up of 20 A/E/C/O professionals. The committee will meet quarterly to review and improve all 793 sections of SpecLink's content on a rolling basis. The committee will consider content structure, accuracy, relevancy and currency.
Peterson's involvement in this committee demonstrates TMP's commitment to quality, accuracy and improving the specification process.
Peterson is a Rochester Hills resident and has over 20 years of experience as a specification writer, project architect and project manager. He earned his Bachelor of Architecture from the Illinois Institute of Technology in 1993. In 1998, he became a registered architect. Peterson is a member of the Construction Specifications Institute and previously held a position as a Director on the Board of the Metropolitan Detroit Chapter. He is also a member of the American Institute of Architects.