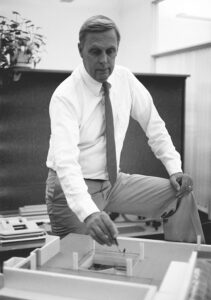 Kent Johnson, President of TMP Architecture from 1986 to 2003, passed away on May 14 at the age of 84. Kent joined TMP in 1969 (after our merger with Glen Paulsen) and his impressive design career spanned over four decades. Prior to being appointed President of the firm, he served as Senior Designer, Vice President of Design and Vice President of Marketing. In 2003, he was appointed Chairman and served on the Board until his retirement in 2010.
Kent was born in Muskegon on January 7, 1937 and graduated with honors as an architect from the University of Michigan in 1960. As a graduate of U of M, Kent proudly worked on several significant projects for the University of Michigan, including the Cancer and Geriatrics Center, the Taubman Ambulatory Care Center and the Maternal and Child Health Care Center.  His experience included many award winning projects such as the Clinton-Macomb Main Library, Wayne State University's Shapero Hall of Pharmacy, Luther West Science Center at Northern Michigan University, Our Shepherd Lutheran Church, the Weisberg Cancer Center and Masco's Headquarters Building.  He also designed the Chrysler Pavilion at the 1984 World's Fair.  His design sensitivity and talent sprinkle the landscape with thoughtful and elegant architecture.
Those who have had the privilege of working alongside Kent over the years will remember him as a fabulous colleague and fun-loving gentleman. He will be greatly missed by his friends and family at TMP and his legacy lives on in the lives of those who he touched with his commitment to his work and dedication to our field.
Our hearts go out to Kent's family. He was the beloved husband of Elizabeth (Couyoumjian), dear brother of Sharon (Paul) Burstein, loving father of Craig (Margaret) Johnson, Darin (Denise) Johnson, Julie Winand and Kari (James) Skubik, and cherished grandfather of Grace, Lily, Isabella, Nicholas, Alexander, Mila, Josephine, Jake, Fiona, and Luke.
Visitation will be held from 12:30-1:30 p.m. on Monday May 24 at St. John's Armenian Church with a funeral service at 1:30 p.m. Please note that attendance is limited due to COVID restrictions and masks are required. The service will also be livestreamed at https://us05web.zoom.us/j/81168456745?pwd=T2lJbytydkJmbWg5S0prRHM3Tm5Zdz09. Kent will be laid to rest at Woodlawn Cemetery in Detroit, MI.
In lieu of flowers, memorial donations can be made to St. John's Armenian Church (http://www.stjohnsarmenianchurch.org/) or the Benzie Conservation District (benziecd.org), an organization dedicated to the preservation of natural resources in Benzie County where Kent spent many summers.