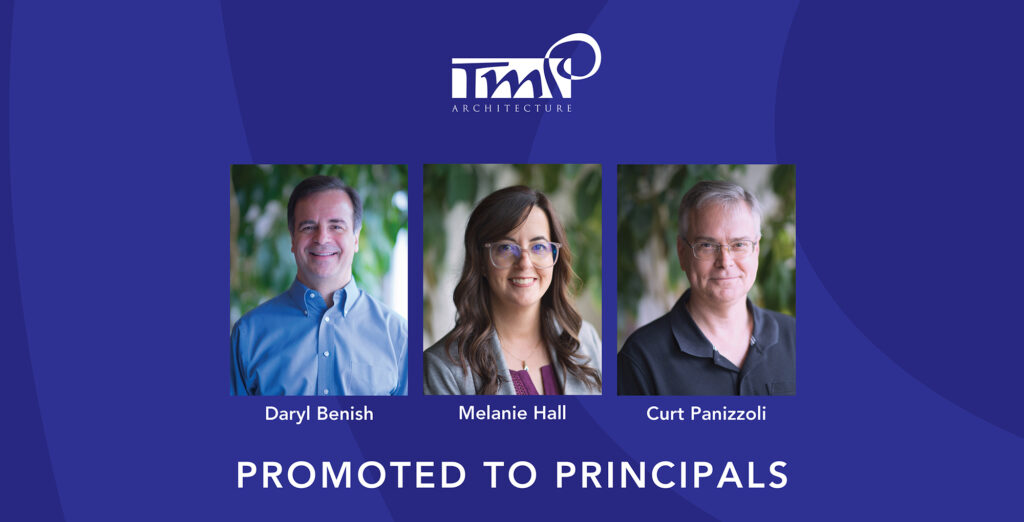 The Board of Directors of TMP Architecture, Inc. recently promoted three professionals to Principals of the firm, including Daryl Benish, AIA, Melanie Hall, AIA, and Curt Panizzoli, RA, NCARB.
Daryl Benish, AIA originally started with TMP in 1995 collaborating as a valuable team member for more than 10 years. Benish has a Bachelor of Science in Architecture and Master of Architecture, both from University of Michigan. He serves as Lead Project Architect for both K-12 and College/University projects including noteworthy projects for Michigan State University, Ann Arbor Public Schools, Battle Creek Public Schools and the most recent Walled Lake Consolidated Schools bond program.
Melanie Hall, AIA has worked for TMP since 2020. She is a Senior Project Manager with a Bachelor of Architecture from Kent State University. Hall's noteworthy projects include East China School District and Livonia Public Schools bond work, Ann Arbor Public Schools, Oakland University, and Westland Public Library. In her free time, she volunteers for Ferndale Public Schools.
Curt Panizzoli, RA, NCARB started at TMP in 2018. He is a Senior Project Architect with his Associate of Engineering from Schoolcraft College, Bachelor of Architecture from U of M, and Master of Architecture from Lawrence Technological University. He has worked on Northville Public Schools' Hillside Middle School, the Jackson High School Aquatic Center Addition, Novi Meadows Elementary, and Novi High School. He is also a member of NCARB.