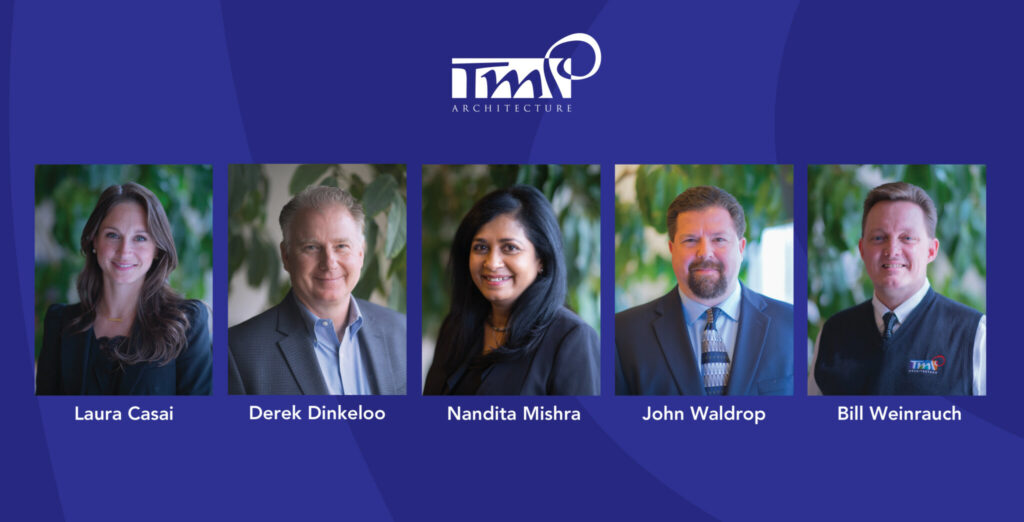 The Board of Directors of TMP Architecture, Inc. recently promoted five professionals to Vice Presidents of the firm, including Laura Casai, Derek Dinkeloo, Nandita Mishra, John Waldrop, and Bill Weinrauch.
Laura Casai, IIDA, LEED AP started with TMP in 2006, working with the firm for 16 years.  Most recently serving as Director of Interior Design, Casai is an Education Market Strategist who holds a Bachelor of Arts in Interior Design from Michigan State University and a Master of Business Administration from Oakland University.  She has led both K-12 and College/University projects with a focus on elevating learning environments, including noteworthy projects for Michigan State University, Dexter Community Schools, and Detroit Country Day.
Derek Dinkeloo, AIA originally began with TMP in 1994, returning in 2019. He is a  key Project Leader with a Master of Architecture from University of Michigan.  Dinkeloo has worked on both K-12 and College/University projects, leading the current $214 million program with Plymouth-Canton Community Schools and Michigan State University School of Packaging addition. Other notable work includes projects with Oakland Community College and St. Clair County Community College.
Nandita Mishra, Intl. Assoc. AIA, ALEP, LEED AP has worked a total of 21 years with TMP.  She is a Senior Education Market Strategist, and Project Leader focusing on K-12 education.  She has a Bachelor of Architecture degree from Maharashtara State Board as well as a Master of Science in Interior Design from Virginia Polytechnic Institute & State University. Currently serving as Association for Learning Environments Michigan Chapter President, Mishra is a thought leader in the field of educational planning. Along with many other projects over the years, she leads work at South Redford School District and Walled Lake Consolidated Schools.
John Waldrop, AIA, LEED AP has been working for TMP for 14 years, starting in 1994 with some time away before returning in 2016.  He holds a Master of Architecture from University of Michigan. John is Director of Operations and Quality Control for the TMP and also a key Project Leader for the Troy School District and Royal Oak Schools' bond programs.
Bill Weinrauch, Assoc. AIA is a Project Leader for major school bond programs and has been with TMP for 27 years after starting with the firm in 1995.  He holds a Bachelor of Business Administration degree from Walsh College, previously studying at Lawrence Technological University's School of Architecture.  Recent successful projects include major bond programs for Wayne-Westland Community Schools and Huron Valley Schools.