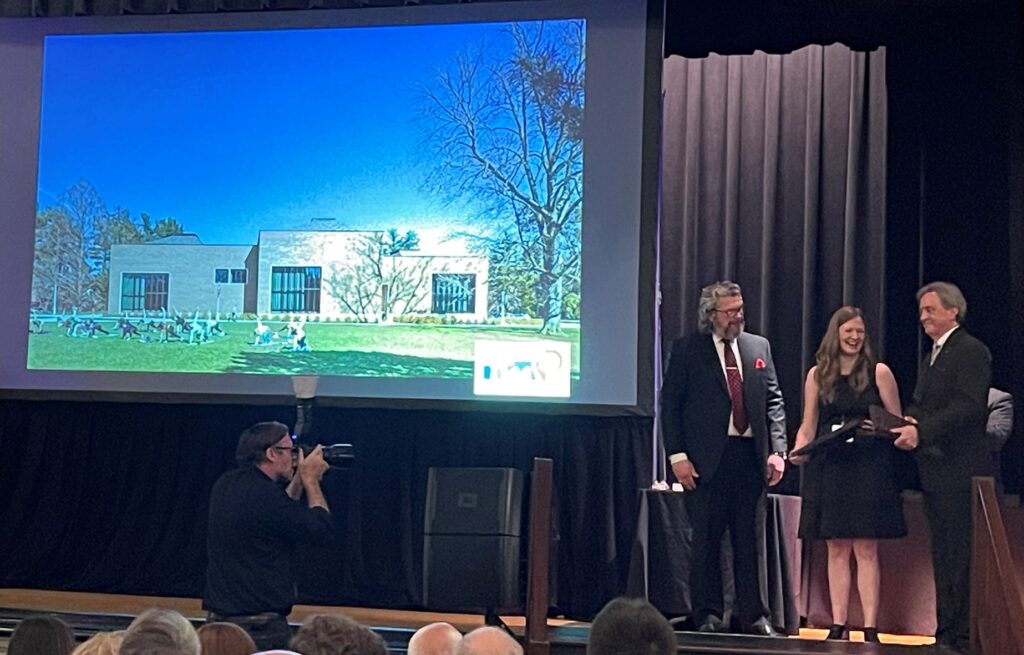 At the combined American Institute of Architects Michigan Chapter and Masonry Institute of Michigan's Design Awards ceremony, TMP Architecture, in association with Bora Architecture, was honored to accept the AIA Michigan Honor Award and Masonry Institute of Michigan Award for Michigan State University's Billman Music Pavilion. The June 16th celebration featured outstanding achievements in architectural design. AIA identifies projects that elevate a standard of excellence, and Masonry Institute of Michigan highlights architectural work that advances the masonry industry and communities in which we live.
Friday's award ceremony took place at the Henry Ford Museum. It was a humbling experience to be recognized for design achievement among the museum's rich architectural and historical artifacts.
The winning facility, Billman Music Pavilion, is an expanded and renovated space in MSU's College of Music, increasing the original facility by more than 40%. The existing 1940s facility needed to be refreshed to better meet 20th-century expectations and 21st-century demands. The design team worked closely with MSU to envision and develop an updated space that would support high-performance building systems, low-energy use, and high durability. Understanding their additional need to enhance the facility's acoustics, we designed large rehearsal spaces with displacement ventilation to maintain acoustically compliant mechanical systems with very low air flow speeds, forced supply air, and passive return.
With custom and advanced acoustics, this facility offers students an enhanced space for practice. AIA Michigan's Design and Recognition jury commented, "Many individuals have collectively worked very hard toward a long-term incremental facilities improvement plan that will serve students, faculty, staff, and the broader community well into the future" and described it as a "Simple, clear and beautifully detailed building" which is "Timeless in its expression and use of materials." Through hard work, communication, and a unified vision, our team helped MSU bring the Billman Music Pavilion to life, and we are grateful for the recognition from AIA Michigan and MIM for the incredible performance space that MSU musicians can proudly perform in.