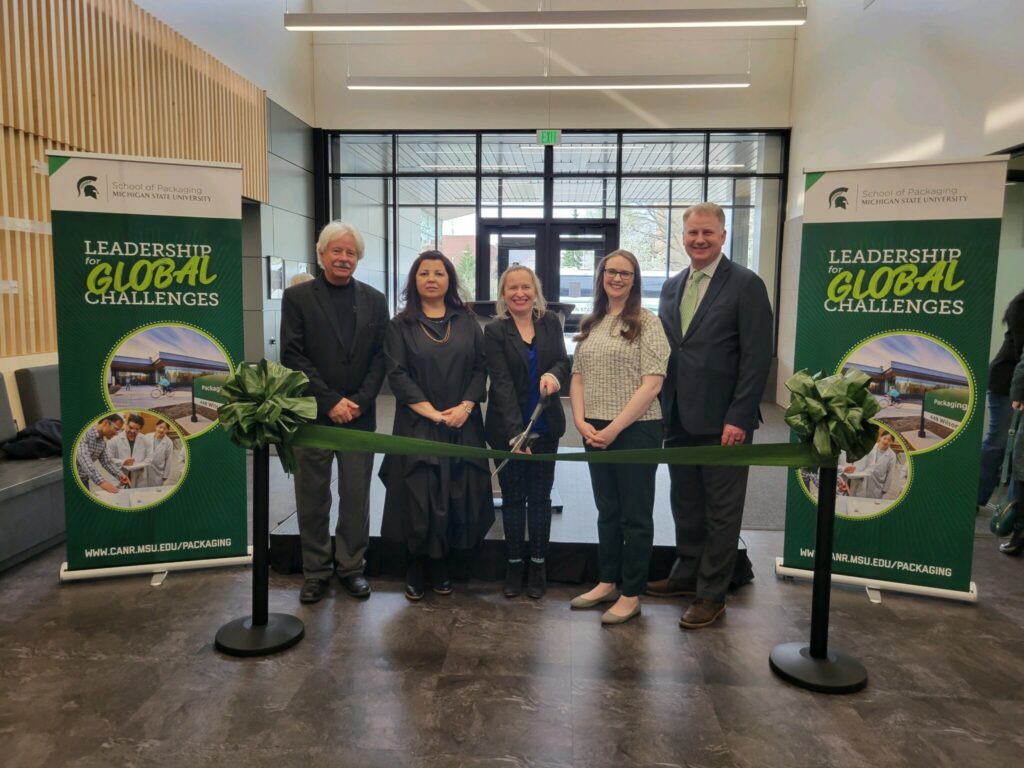 On April 20th, Michigan State University celebrated the opening of the newly renovated MSU School of Packaging building at their Ribbon Cutting Ceremony. TMP was honored to attend and celebrate the school's robust history. Established in 1952, MSU's School of Packaging was the first of its kind and has since grown into the biggest packaging program in the country. This program includes undergraduate, graduate, and post doctorate degrees that focus on learning sustainable, medical, material, design, and distribution practices in the packaging industry. Their graduates work in global Fortune 500 companies and Ph.D. graduates teach at global universities.
With its last updates occurring in 1986, the new upgrades include more flexibility, integrated technology, collaboration spaces, and modernized facilities that will support advanced teaching practices and leading-industry, world-class research.
At the Thursday ceremony, audience members were welcomed, and listened to grateful remarks from MSU leaders and a current graduate student as they introduced the enriched building.
For the project, TMP and construction manager Christman Company worked collaboratively to increase natural light, sustainability, and accessibility in the space. Having previously completed a study of the Packaging building, TMP understood MSU's expectations and worked closely with Christman to achieve the world-class spaces envisioned by the University. Starting in August 2021, the team met weekly, and effectively solved an individual project element, in-depth, per meeting.
One of the elements the team tackled was a redesigned lecture hall and unifying concourse. The concourse connects major program elements and creates a collaborative environment for students, staff and visitors. Features in the hall include windows for natural daylight, flexible seating for up to 110 people and new acoustic treatments that support the space's sound needs. Chosen building materials like carpet, flooring, low-energy LED lighting, and acoustical baffles made from recycled materials, along with new mechanical units that were chosen for high efficiency, support sustainability goals. The building materials will stand up to heavy use and sustain this project as it ages, keeping materials out of the landfill.
By working towards a mutually understood goal, the team designed MSU's School of Packaging to be durable, sustainable, accessible and will support the continued growth this school is experiencing. Staff and students are excited for the future of the School of Packaging and TMP certainly shares in the enthusiasm for what its future holds.