The American School & University Architectural Portfolio winners have been announced! TMP, with our design partner Bora, is honored to announce that Michigan State University's College of Music has been selected as the Louis I. Kahn recipient in the awards publication, the highest recognition for post-secondary projects. According to SchoolDesigns, this is "The ultimate tribute to education design excellence."
The College of Music, Billman Music Pavilion, underwent an expansion and renovation. MSU wanted to enhance the 21st century features of the facility and ended up with a new space that reflects their incredible program. The jury said, "Uses daylight so well. The materials, the proportions of this building are so nice and so clean. The simple volumes resonate with the programming on the interior." Check out the award, page 24 to learn more about the features of this design.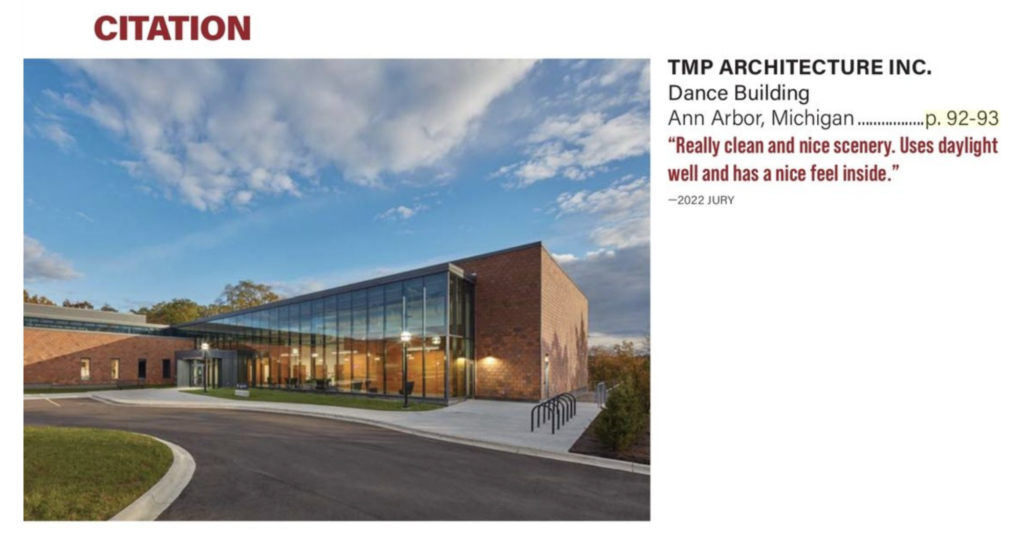 Additionally, the University of Michigan's Dance Building completed in association with Ballinger was featured, earning a citation among the other post-secondary school selections. The jury particularly liked the use of daylight in this design as well. To support the growth of UM's dance program, the project design balanced structure, environment, and aesthetic. Nature and energy efficiency were both taken into account when expanding this facility for a historically significant arts program. Learn more about how designers engaged with the environment on page 92.
Both of these buildings were created to assist incredible programs and TMP is thrilled to continue supporting 21st-century demands through design.